Garden Design
I produce garden designs for residential properties. These include all aspects of the property including outdoor lighting, hardscape, driveway and garage alterations, storm water management, outdoor living spaces, fencing, trees, shrubs, perennials, annuals and bulbs.
Whether you need a project plan or a Master Garden Plan, having a design will make the actual work of garden installation go more smoothly.
It's always cheaper to make changes on paper than in the midst of a project, so we start with a scale drawing that includes everything on your wish list.
Installation
We professionally install all manner of plant material including trees, shrubs, perennials, annuals, bulbs and lawns. To prepare for your garden install we also:
Clear land of invasive undergrowth
Grind tree stumps, remove unwanted or diseased trees
Backfill and grade
Demo hardscape, old fencing, and haul debris
Install water features including ponds and fountains
Install outdoor lighting, outlets, fencing, and decks
Install underground pipe and water retention systems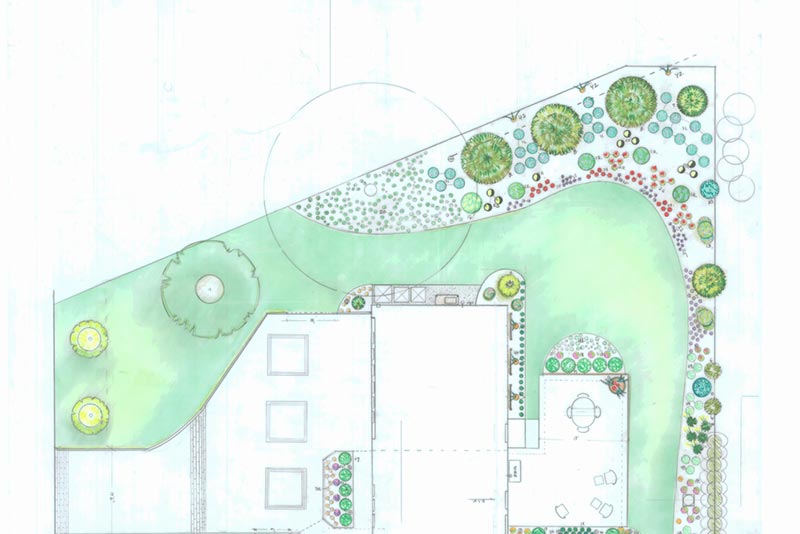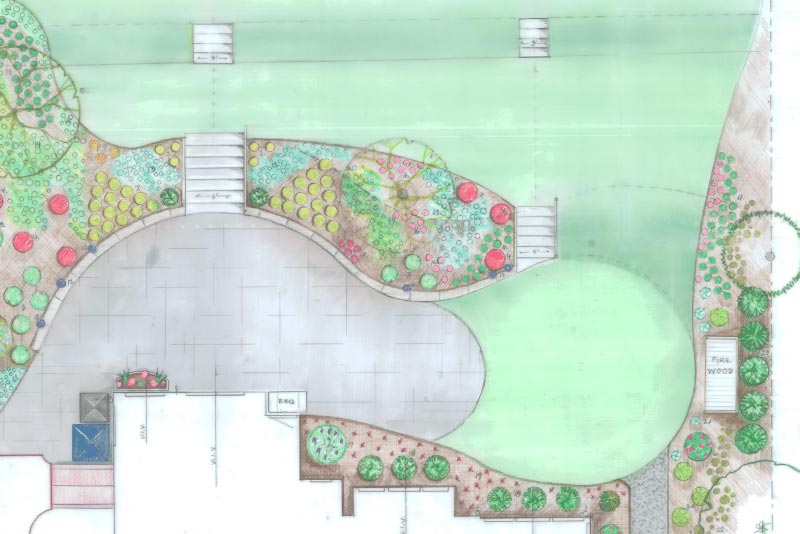 Hardscape & Stone Work
Flagstone patios, steps, and stone garden walls are a core area of our business. In addition we are certified Porous Paver installers – a fully permeable solution for walkways, driveways and play areas.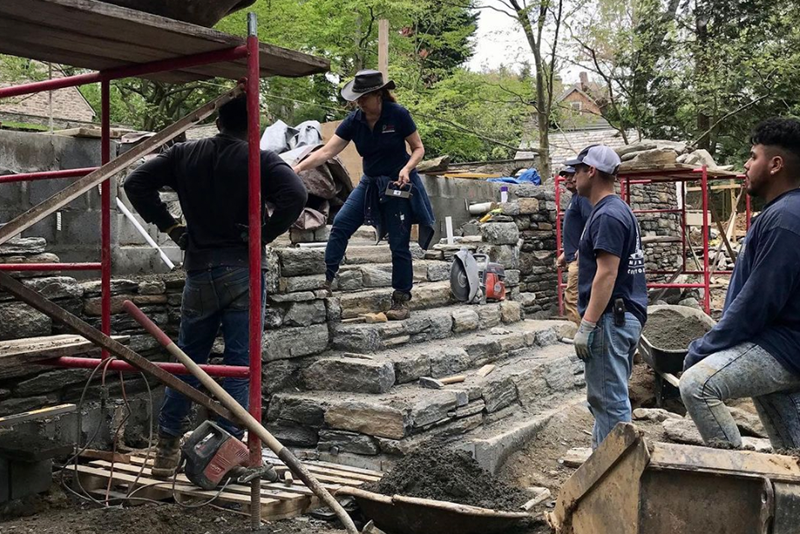 Storm Water Management
Do you have a wet basement? Erosion after a heavy rain? Perennial beds that are so wet everything dies? We offer several tried-and-true storm water management solutions that are affordable and minimally invasive. These include permeable hardscape surfaces, downspout upgrades and underground percolation basins. A simple storm water consultation can save you a world of expense and headaches as compared to French drains and the like.
Due to the unique nature of each situation, storm water management projects often require custom service and treatment. Please call us to start the conversation about your project at 215-356-8010.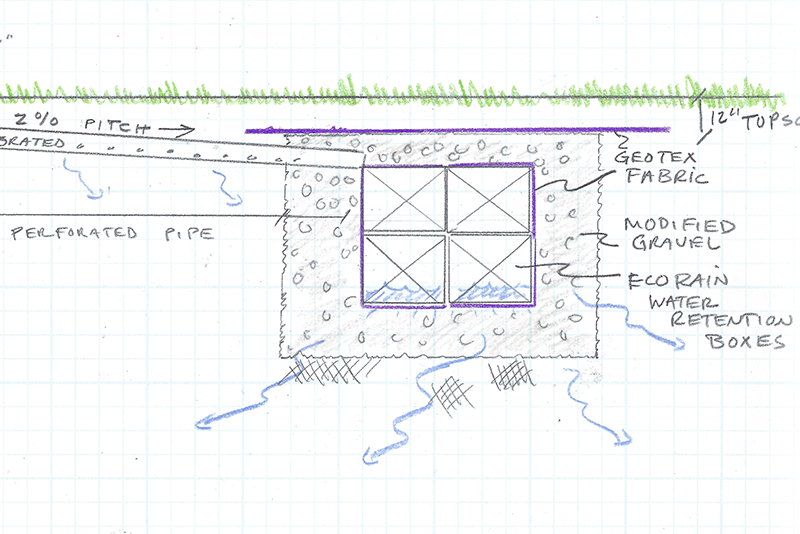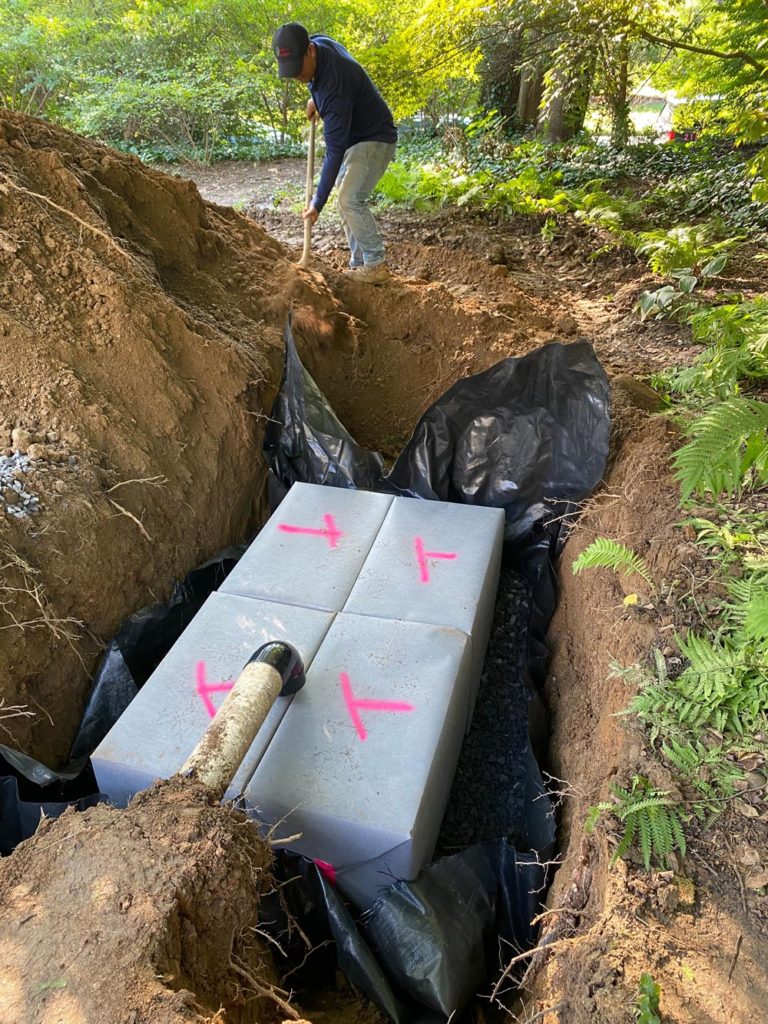 Outdoor Lighting
Lighting can transform your outdoor living space. Up lit trees become sculpture. Path lights communicate hospitality at an entry. Wall washes accentuate the architectural details of your home. Outdoor lighting expands our view during the dark winter months. Increase the safety and accessibility around your home with affordable energy efficient low voltage lighting!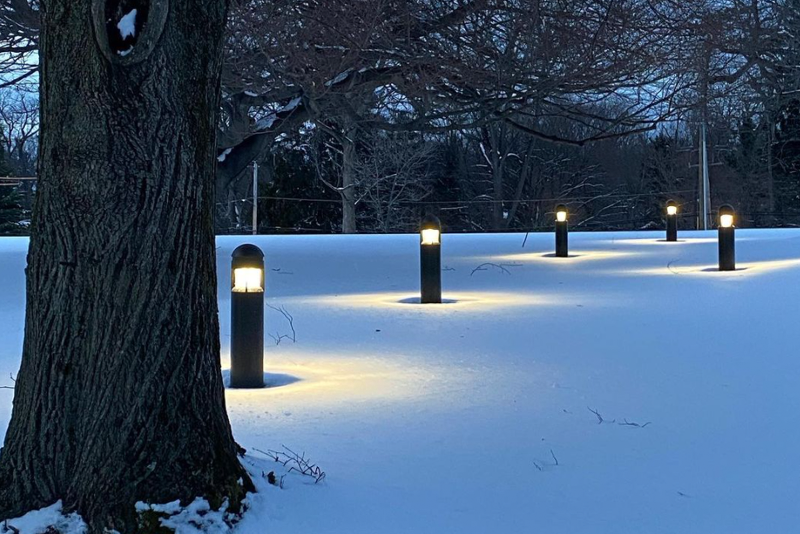 Consulting
Are you a "Do-It-Yourselfer" who needs some garden coaching? Valerie offers her expertise as a consultant at an hourly rate. Whether you need project plans, implementation advice, or just need to identify suitable plants for your location, Valerie works closely with you to give you the insights, hard-earned knowledge, and recommendations you need to get the job done. Please call us to start the conversation at 215-356-8010.
Valerie's Upcoming Classes & Lectures
Garden Design 101 Workshop @ Springfield Township Public Library
Six Tuesdays: February 6th, 13th, 20th, and 27th; March 5th, 12th from 12:30PM  — 2:30PM
Cost: $275
A beautiful, functional outdoor space is a wonderful asset. This comprehensive overview will help you plan your outdoor living upgrades strategically. Design for privacy, four-season beauty, stormwater management, and family-friendly functionality! Learn about design principles, hardscape choices, outdoor lighting, tools, trees, perennials, lawns, and tools. Benefit from 25 years of horticultural experience with Valerie Solitrin, owner of Valerie Designs, LLC. Students will have the option to map and design an area of their own landscape with the support of Valerie. Six sessions jam-packed with great information will be the smartest garden investment you make! Required class materials are provided in the first class.
Get More Information & Register
---
Preparing Your Garden for Spring @ Morris Arboretum
Thursday, March 21st, 2024 from 1:00PM – 4:00PM
Learn professional techniques and sustainable practices to get your garden off to the best possible start! Review spring bulbs, how to divide perennials, prune shrubs, and edge your beds. Learn proper mulching methods and products to use or avoid! Discuss strategies to make bigger garden changes. Join garden designer and owner of Valerie Designs, LLC, Valerie Solitrin, to learn time saving tricks of the trade and best practices.
Register on the Morris Arboretum Website
---
Water Management Solutions for Your Landscape @ Morris Arboretum
Thursday, March 26th, 2024 from 1:00PM – 4:00PM
Over the years, heavier rain and drier periods have been making water management in your landscape more challenging to navigate. Whether you must comply with your township's impermeable surface code or you just want to be more earth-friendly, this class will introduce you to a wide array of solutions. Join water management expert and owner of Valerie Designs, LLC, Valerie Solitrin and explore a number of water management approaches from permeable hardscape options to rain gardens and seepage beds. Solitrin will also examine local municipal codes and how to comply with them.
Register on the Morris Arboretum Website
---
All About Landscape Lighting @ Longwood Gardens
Saturday, April 6th, 2024 from 9:00AM – 12:00PM
Join garden designer Valerie Solitrin, owner of Valerie Designs, LLC to learn about lighting design, system options and best practices. Review various fixtures and how to position them to enhance architectural and landscape assets of your home. Learn to select and install the best gauge wire for your circumstance. Get hands-on experience with connecting low-voltage components so you are prepared for DIY lighting.
Register on the Longwood Gardens Website
---